Sambo, the Russian martial art and combat sport, has agreed to introduce a system of colour coded belts to help it become on par with other martial art systems and become easier to understand for both spectators and fighters.
Until now, the Russian martial art had no colour belt system to identify the rank or skill of its fighters. Today, most other martial arts have a system of belts or colours that help identify what rank and skill level the fighters are at. Beginners are usually issued a white belt, before they move up the ranks of many colours and colour combinations before gaining a blackbelt as master.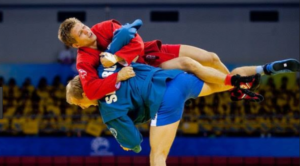 Members of the International Sambo Federation (FIAS) agreed unanimously to the plan to bring in colour coded belts after an executive committee meeting in Moscow earlier this week.
"Time has shown that we're unable to adapt in sambo a classifying system which is used, for example, in judo or jujitsu," said FIAS Technical Commission chairman Sergei Tabakov, also the FIAS executive director.
Sambo will now introduce a belt system, made from 10 centimetre belts of blue and red, with special colour stripes to identify skill level, ranging from white to purple. By maintaining a standard belt colour overall, the belts will be able to identify the fighter's skill level by the special stripes while the belt itself doesn't clash with the sport's traditional outfit of red and blue.
Strong, sexy, flexible, and full of endurance…what's there not to like?