Okay, so you're already dope at fighting and know all the moves under the sun. You've a black belt in four different martial arts and you invented Brazilian Jiu-jitsu. But do you really know how to defend yourself in a real life situation? Sure, we don't advise using any of these moves to attack anyone, but if someone does really fuck with you, then teach them a lesson by using one of these seven simple self-defense moves that'll leave you laughing.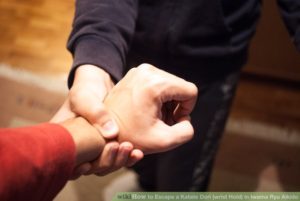 Escape a wrist hold
Don't try to beat a wrist hold by pulling away from your attacker. Instead, rotate your wrists so your thumb lines up with their thumb and sharply jerk your elbow, bending your arm and pulling your hand out at an angle that breaks their grip every time.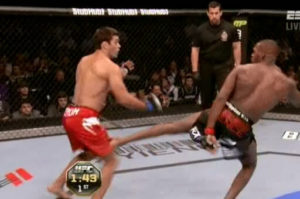 The deadly knee kick
This kick you often see in MMA and Muay Thai, and is the topic of much debate about whether the oblique kick should be banned or not. Luckily, on the street there is no rules so all you need to do is thrust the sole of your foot towards the attackers kneecap to incapacitate them, giving you enough time to swing a punch or leg it the other way. The knee is also really hard to block, and with a knee injury it's hard for them to chase you too!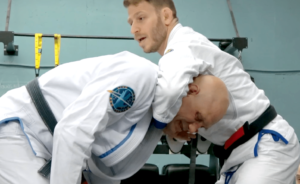 The Guillotine Choke
The 'guillotine choke' is a popular move taken from jiu-jitsu and MMA that works from both a standing position or off your back, making it well suited to self-defense. Pull your opponents head down to your chest and towards one of your armpits (it's better if they smell bad). Reach around their head and slide your forearm under and across their throat. Lock your hands together and pull up, choking your opponent until they beg for mercy.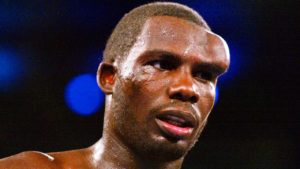 A painless headbutt
When going in for a headbutt, grab your opponent by the shirt and quickly push them back and jerk them forward. This will free up their arms and the tension in their upper body that holds their head still, so when you headbutt them their head moves too, reducing the pressure on your cranium. Just make sure you're looking towards the floor when you make contact with their face, otherwise you'll both get broken noses!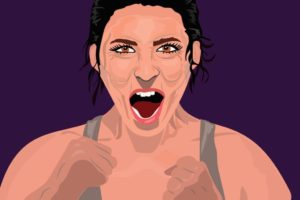 Scream a battle cry
Okay, you may look a bit stupid to onlookers, but in the moment, a battle cry can really affect your attacker. Shouting can knock an attacker off their tracks, opening up an opportunity to either run or attack them. It also doubles up as a signal for help, but maintains power and stops you looking like your crying for help. It's so effective, there's an ancient martial art word for it – kiai.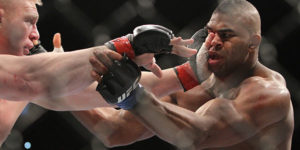 The classic eye poke
It's simple and self explanatory. Poke someone in the eyes and they can't see you. It also hurts really bad. Just don't go overboard and push so hard their eyes pop, because then you'll be in more trouble than they are!
The ear slap
Yes, that's right. Slap their ear. With enough force you'll break their ear drum, but at the very least you'll stun them. Simply put, one slap to the ear and the'll be disoriented long enough for you to make a hasty getaway.
These are our top 7 most simple self-defense moves but really, when approached by an attacker, the best course of action is usually to just run. Leg it as fast as you can and get away – cos nobody got time for bruises, cuts or worse.
Is there any moves on this list you feel are missing? Let us know in the comments, or share stories about how one of these moves saved your ass on the streets or in the ring.