Tony Jaa, the Thai actor most famed for his role in Ong Bak – a Thai martial arts film that gained a cult following for is brutal and aggressive display of Muay Thai in cinema – is perhaps one of the most underrated martial arts movie heroes of all time. A stunt-man turned actor, Japanom Yeerum (changed his name to Tony Jaa when he went international) hailed from Thailand and begin his film career being a double for some of the wildest stunts in cinema at the time. Once his name was known however, he managed to break into acting himself, becoming Thailand's very own Jackie Chan or Bruce Lee – but much cooler and much more hardcore.
As a young boy, Jaa grew up around elephants as his family were a family of elephant herders. Growing up he watched many martial arts movies and soon came to idolize some of the world's most popular actors at the time – Bruce Lee, Jackie Chan and Jet Li. As a teen he studied martial arts at a local temple before being given a scholarship to study at the Physical Education College in Khon Kaen, Thailand.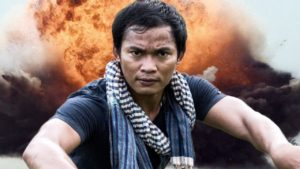 There Jaa studied Muay Thai, Muay Boran, Wushu, Judo and Taekwando. Through his experiences at college, he discovered that he was a strong resilient man who could take a lot more than his peers in terms of pain and battering. As a result, he began taking on stunt work that eventually saw him doubling for Robin Shou and James Remar in Mortal Kombat: Annihilation (1997).
After his demo reel was seen by Thai director Prachya Pinkaew, the film Ong Bak was created specifically for Jaa to play the lead role. During one of the fight scenes in the movie, in the background you can see the message "Hi Spielberg. Let do it together" spray painted on a shop door.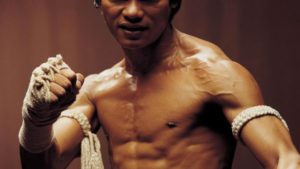 Today, there are several Ong Bak movies, but he has subsequently ended his association with Shamongkol Film and partnered up with Universal Studios after he was offered a role in Fast and Furious 7. His latest project is starting with Vin Diesel in xXx: Return of Xander Cage.
You can watch the pair training in this video:
To this day Jaa supposedly does up to 8 hours of gymnastics, Muay Thai and other sports almost every day, and he now has a black belt in Taekwondo and Wushu.