The US has won wrestling's World Cup for the first time in 15 years last weekend, marking the second consecutive victory by the states in major international tournaments.
The victory, over Azerbaijan was in all intents and purposes, an incredible win for the USA, however we must not forget to mention that Russian and Iran weren't in the field – the usual powerhouses of such events.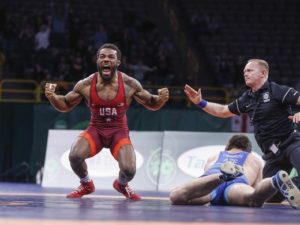 The win was claimed by Jordan Burroughs and Kyle Snyder who went 4-0 this weekend to bring the Americans to lead the world cup, winning the UWW Freestyle World Cup title for the first time since 2003.
Previous years the USA had finished second behind Iran. Iran did not compete this year after its national federation being in flux since its president's recent departure, and Russia had not entered the competition after they blamed their absence on visa issues.
The US team entered the semi-finals with ease after beating India (Russia's replacement) before winning seven straight matches against Japan, coming out with an impressive 7-3 win overall.
They then met Georgia for an 8-2 victory, which ended with Snyder clinching a victory for the States with a 14-3 technical win over Roman Bakirov.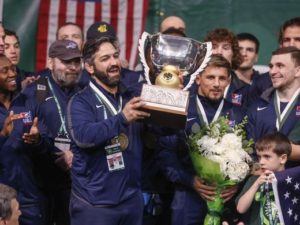 "I feel good," Snyder said in a statement following his win. "He's pretty good, so it was nice to get tech fall him. It was another opportunity to help seal it up for the United States. I would always pick myself to go out there and wrestle when it comes down to the team. We have a lot of good guys, but I feel real confident in my ability to wrestle under those circumstances. It feels good. I believe we were the best team. It's no surprise to me."
Burroughs said that "For me, I look at it like this: We're the best team in the world. People are, like, 'Without Iran and Russia, they're the best team.' No, we're the best team. We're the reigning world champions. We're the team champs. If they wanted to win a World Cup, they should've prepared and come here to wrestle us, right? We flew all the way out to Iran to get there last year — a 15-hour flight. They should've been here this year. We're the reigning world champs, and we're looking to do it again in October."