Police have arrested a man in Algeciras, Spain, in connection with a brutal attack on a 64-year-old woman who was trying to enter her home after an evening out with friends.
The man was caught on CCTV approaching the woman who was unaware of his presence before he punched her square in the side of the head. As she dropped to the floor, the man carelessly kneed her in the face several times before grabbing her purse and running away.
The victim was taken by surprise, and even if she had been trained in self-defense, there would be little she could do after being hit in the temple and kneed in the face.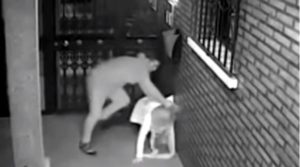 According to reports by the Spanish Police, the attacker was later identified as Marcel Gongu, a 31-year-old man from Romania. He was later arrested at the airport as he tried to board a flight back to his home country.
Police say that they first went to his house to arrest the man but he was not there, so they searched the premises and later caught him at the airport. Gongu has a history of homicide, abuse and violent threats. He is also suspected of beating another older woman just two days earlier.
The video of the attack went viral, and were released by police in a bid to identify the attacker. If you were in that situation, how would you protect yourself? Which martial art would have been most useful after a jump attack such as this one? Let us know in the comments and let's discuss the best martial art in this situation!