Is he a god? Is he just an amazing actor? Is he even trained in martial arts at all? The answer is yes to all three.
Chuck Norris, now older and of higher internet fame than ever before, is a highly trained actor, martial artist, philanthropist and devout Christian. Aside from his acting, Norris does get involved with real fighting too, such as this karate championship in 1966 against opponent Allen Steen.
Check it out here
In fact, Norris is a black belt in six different martial arts. He holds a 10th degree black belt in Chun Kuk Do, a 9th degree black belt in Tang Soo Do, an 8th degree black belt in Taekwondo, a 5th degree black belt in Karate, a 3rd degree black belt in Brazilian Jiu-jitsu and one black belt in Judo.
Wow.
For those who don't know however, Norris started his training in Tang Soo Do and in his hay day, he was the only westerner to be awarded an 8th degree black belt in Taekwondo. This was all before he separated off and invented his own art of Chun Kuk Do, so it's no surprise that he is a master in his own tradition.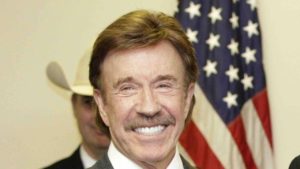 Chun Kuk Do, or the Chuck Norris System, is a hybrid martial art style, based on Tang Soo Do and other more militaristic based traditions. The fighting style also comes with a code of honor that is based on Norris' own code of ethics.
I will develop to the maximum of my potential.

I will forget the mistakes of the past, and press on to greater achievements.

I will continually work at developing love, happiness, and loyalty to my family.

I will look for the good in everyone, and make them feel worthwhile.

If I have nothing good to say about a person, I will say nothing.

I will always be as enthusiastic about the success of others as I am about my own.

I will maintain an attitude of open-mindedness.

I will maintain respect for those in authority and demonstrate this respect at all times.

I will always remain loyal to my God, my country, my family, and my friends.

I will remain highly goal-oriented throughout my life; a positive attitude helps my family, my country and myself.
Now aged 78, Chuck Norris recently received his 3rd degree black belt in Brazilian Jiu-jitsu. He posted on his Facebook page that "after 30 years of Brazilian Jiu-Jitsu training, with the endorsement of Professor Jean Jacques Machado, Professor David Dunn promoted me to 3rd Degree Black Belt. This was the first black belt promotion held under the direction of our United Fighting Arts Federation Brazilian Jiu Jitsu program (UFAF BJJ) which David Dunn is our Chief Instructor and Reggie Cochran is our Director."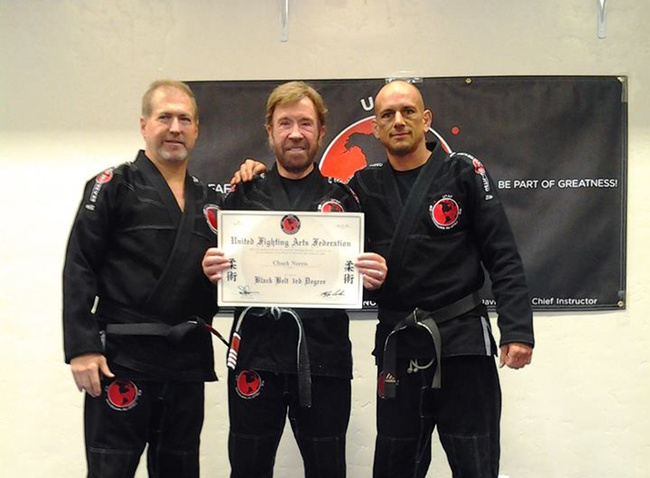 Norris is also famous for his roles in cinema, including Way of the Dragon and the TV series Walker, Texas Ranger from 1993 to 2001.
Do you think he gets enough credit for his skills?