Deontay Wilder has this week finally produced the $50 million Dollars offered as a minimum stake to fight Anthony Joshua for the undisputed heavyweight championship which has now been planned to happen before the end of this year.
This is huge! In a video to Joshua shared earlier this week, Wilder talks directly to the camera, telling him to check his team emails as he has 'something special for you' with 'all the money in the bag'.
Just to clarify, $50 million Dollars is a shit-ton of money. That could buy you 50,000 iPhone X phones, over 2,00 Toyota Prius cars, 20 million Big Mac meals, 51 private islands or one massive mansion with enough room for 27 families, a moat, a lake, swimming pools and a well-stocked bar – but you'll have to kick Tom Brady out first.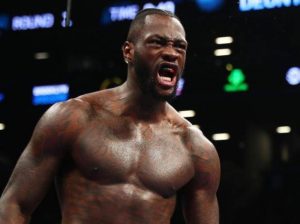 The fight winnings are heavily balanced towards Joshua's favour, with Shelly Finkel (Wilder's manager) confirming that the offer is $50 Million against 50% of the revenue, meaning that if the match earns in excess of $100 Million then Joshua will see considerably more in his pocket and if the fight loses money, then it is down to Wilder to foot the bill to bring Joshua's winnings up to $50 Million.
This is a giant amount of cash, for an equally giant fight.
Both sides of the pond also agreed to display the fight on pay-per-view television stations to increase the revenue earned by this monumental fight. The fight is expected to take place in the United States and currently it looks like Las Vegas is on the cards – naturally.
There will also be no rematch clause and the fight planned must be the next match for both fighters, with both parties delaying any scheduled fights until their fight is concluded.
Right now all eyes are on Joshua who has yet to accept the offer, but asking for $50 million Dollars against 50 percent is an incredible ask, and what is even more incredible is that Wilder has agreed to such expensive terms. This fight clearly means a lot to both parties. For us spectators, make sure to prepare those credit cards to ensure your pay-per-view position and sit back, place your bets and let the best fighter win.
Who's excited? We can't contain ourselves!