Getting in the ring with a Muay Thai expert is nothing short of terrifying. Those bony extremities can hit you like a ton of bricks and there is literally no padding in between. If you're in the streets, the Muay Thai rules are thrown out of the window, so defending yourself with elbows and knees can become a lot more dangerous. Here are five ways to use your elbows properly to either inflict some hefty damage or defend yourself in a fight – because who expects an elbow to the cock?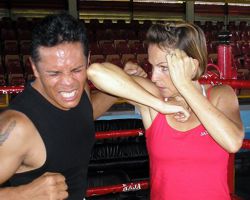 Horizontal elbow to to the temple
Go in for the attack without thinking and you'll mess it up. Step back, aim and execute your strike with precision to really defend yourself. Here, all you need to do is swing your elbow parallel to the floor and aim for the temple. Depending on what makes contact first (the arm or the pointy elbow) depends on what damage you do so use it wisely.
The good thing with this strike is that if your opponent tries to move their head, you'll get them in the eye or in the back of the head – two places that can equally knock someone out or at least make them bleed.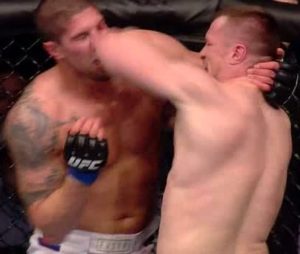 45 degrees to the nose
Raise your elbow and strike downward for a powerful attack to the face. This swing is exceptionally powerful as you not only use your body to rotate the punch increasing the torque of the strike, but you also naturally add the force of gravity to the equation.
Although a little trickier to learn, this strike can be deadly (well, not quite deadly but you know what we mean). It's often used against boxers who rely on powerful hooks and grabs because it is an angle they are not expecting.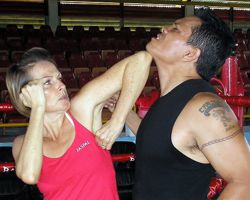 An elbow uppercut to the chin
Set aside the traditional uppercut and save your knuckles from splitting open. This attack is hard and painful. Typically, all you need to do is swing your elbow upwards and bring your hand towards your head, like you're flicking back your hair in a moment of badass style and charisma.
The chin is one of the tree most easy knockout points on the human head, so unless you miss entirely, you can expect a knockout, or at least daze your opponent for enough time to run away.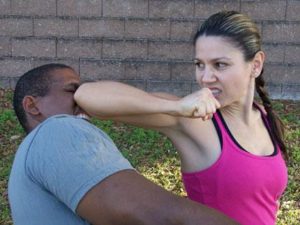 Choke them with an elbow to the mouth
Okay, so you're not actually getting your elbow down their throat here (unless their mouth is huge, admittedly) but what you can do is either break some teeth or go for their throat and knock them for twenty. In this attack you fold your arm into position so that your elbow is pointing forward, and then you lunge forwards that it spears into your opponent's face or neck area.
The problem with this attack however, is that a direct forward lunge is hard to successfully enact, so you may look like an idiot if you miss or fail to get enough power behind it.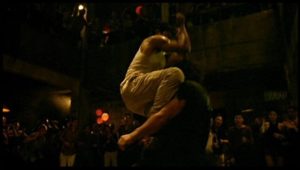 The forehead strike
Okay, so here you look totally badass if you jump from a higher level and bury your elbows into somebody's head like Tony Jaa, but if you're on the same level it works too. Again, this move uses gravity, and even if the attacker is blocking their face, you can usually make some contact with the head above the tips of the fists or gloves. This attack requires subtlety, as you drop your elbow onto their head without making it look like some Jackie Chan karate slice.
If you want to learn how to do this, just Google '12-to-6 elbow' – yes the same one that is banned in the UFC – for pointers.