Probably the oldest martial art in Southeast Asia, the Cambodian ancient art Bokator was almost eradicated during the bloody and oppressive rule of Pol Pot. Luckily today, the tradition still survives thanks to a few brave grandmasters who dared to speak of and practice the martial art once again – something which is even more amazing when we remember that despite Pol Pot being long gone, the fear is still engrained in many people's hearts.
Bokator stems from one of the earliest systemized Khmer martial arts. It predates almost all systemized martial arts in the region too, appearing well before Brodal Serey (Khmer free boxing) and Muay Thai, of which many are now claiming emerged out of the traditions of Bokator that were exported across the Southeast Asian peninsula thousands of years ago.
It was almost wiped out during the Khemer Rouge, but thanks to one tireless grandmaster, San Kim Saen, it has had a breath of new life and is slowly gaining recognition once again as Cambodia's most ancient martial art tradition.
With stances and fights depicted on the walls of Angkor Wat, this ancient tradition dating back to over 2,000 years ago was what eventually gave way to the well-known Muay Thai associated with Thailand and the Southeast Asian region. For thousands of years it survived, grew and became an identity for the Cambodian people, but during the bloody and horrendous regime of the Khmer Rouge from 1975 to 1979, the tradition was almost wiped out, along with over a quarter of the country's population.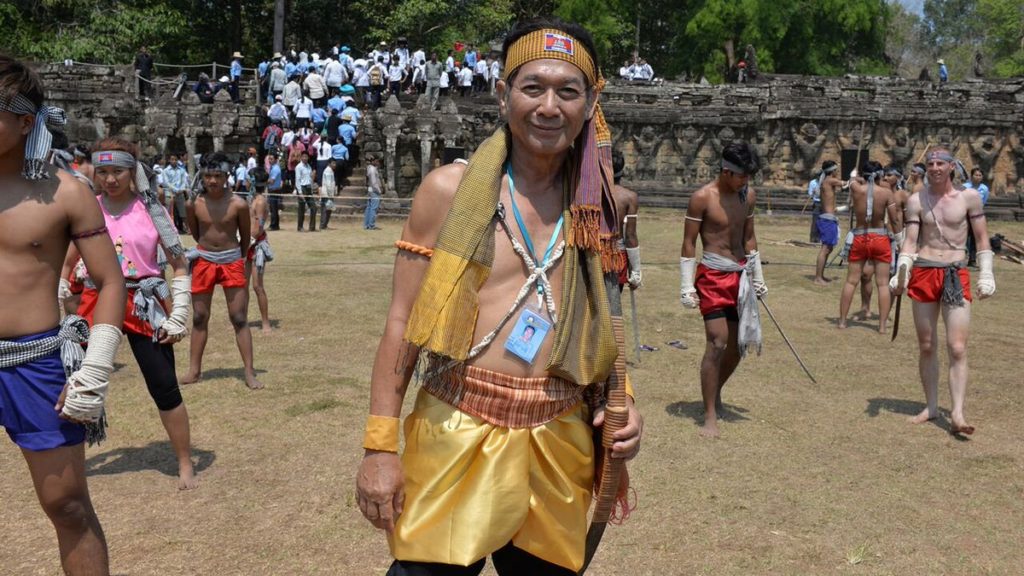 Grandmaster has told stories that would haunt anyone, saying that during that time if you told anyone you did martial arts, you'd be killed. If you told anyone you went to school, you'd be killed. Even people wearing glasses were killed for 'looking too intelligent'. The regime was controlling and murderous.
However, through great perseverance and strength, San Kim Saen managed to survive by fleeing to the US, carrying with him the traditions and knowledge that would see the revival of bokator and save it from being killed by Pol Pot and his men forever.
Today, the grandmaster still uses a basic bokator academy in Siem Reap, with a tin roof, rusting fans and a few battered wooden benches that sit next to some training mats. Bokator, which means 'pounding the lion' is not a euphemism, but a fighting tradition that belongs to the great-grandfathers and great-kings of Cambodia.
"Angkor Wat was created to protect the country and the Khmer empire," San Kim Sean says in a recent interview with the South China Morning Post. "They built up a strong army that used bokator."
Regional martial arts grew out of bokator, such as Thailand's Muay Thai and Muay Boran once it was exported to the rest of the region during times of war and conqueror.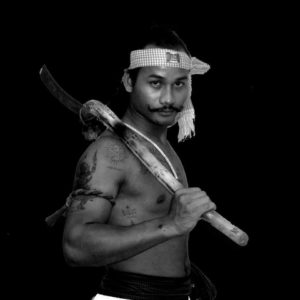 The technique is taken from animals, their fighting styles repurposed for the human body. Much like the Dog King Fu tradition that is dying out in China, bokator takes influences from dogs, birds, tigers and other land animals. The tradition was taught by masters on the top of hills, and there was little written information about the tradition as it was believed to be a privilege to learn with a grandmaster one on one.
For San Kim Saen, bringing back the tradition was no easy feat. He had to contact the surviving bokator masters, many of which were still fearful that the Khmer Rouge would return so would often hide their talents. It took years, well into the early 2000s before he could really convince some old masters to begin teaching the tradition once again. Today, there is a bokator congress, a bokator foundation and a bokator academy that is recognized by the government. In 2010 bokator joined the World Organization of Martial Arts (WOMA) and there have been growing international interest in the sport. Only time will tell, but this ancient Angkorian martial art is on the rise, and the 'original' Muay Thai is coming back…according to Grandmaster San Kim Saen that is.
The name means to 'fight like a lion' and is different from more modern adaptations, such as Muay Thai, for several reasons.
Unlike Thai Kickboxing or even the Cambodian free boxing tradition of Brodal Serey, Bokator is a true martial art, created as a fighting style to be used on the battlefield. This true combat tradition was the go-to fighting style of the Cambodian armies of times past and follows a belt system, in which forms, movements, and techniques are learned in a specific order.
Similar to Muay Thai, the tradition uses knees, shins, elbows, submissions, pressure points, and grapple/ground fighting. What is different is that there is nowhere off limits – as is expected with a weaponized martial art – with fighters often using hips, jaws, foreheads and fingers to attack every inch of their opponent…including the soft nether regions. Sticks are also utilized, with small bamboo staffs often included in the fights which usually end in submissions or choke holds.
Because it looks quite similar, people often mistake Bokator as a variant of modern Kickboxing, but as we mentioned before, it was the original martial art of the region. The at contains over 300 sets which are based on animals, nature and the forces around us, much like most other Southeast Asian sports.
Fighters still wear the symbols of ancient Khmer armies, and although it follows a belt system, it is actually a colored krama (a traditional Khmer scarf) that is used instead, wrapped around the fighters head and biceps or around their waist. Traditionally the scarfs were said to be enchanted to increase strength, but today they are more ceremonial – demarking the level of the fighter clearly.
Not unlike most other traditional martial arts, Bokator also follows a recognizable color system – starting with white, then evolving through green, blue, red and brown. The final belt color is black and has ten degrees. However, there is one special level above the ten degrees of black and that is the golden krama – a glistening golden scarf that is fit only for a true grandmaster who has contributed to the tradition of bokator personally. This lifelong endeavor raises Bokator to new heights of personal ability given the 10,000 individual techniques that can be learnt, out of which only 1000 are needed to be known to gain a black scarf.
Today the martial art is gaining international attention not only because of its phoenix-like history but also due to it's powerful style that some say is far superior to Muay Thai. The Royal Cambodian Armed Forces and the Cambodian Police are already training in Bokator and the government has even suggested introducing the martial art into the school curriculum. This year also saw the submission of Bokator into the official list of sporting disciplines that will be featured in the 2023 Southeast Asian Games which will next be held in Phnom Penh.