Andy Hug is one of the great modern martial artists of our time. Born in Switzerland, Hug shoed amazing talent at sports, playing football at just six years old, he was selected to join Switzerland's 16-and-under national team. By age 11, he took to martial arts much to his grandfather's disdain.
Hug would never know his father who died in Thailand as a foreign legionnaire and barely knew his mother as he was primarily raised by his grandparents. After some time his grandmother managed to persuade his grandfather to relent and accept his passion for martial arts after displaying such skill and potential.
Hug started training in Kyokushin Karate, a God of War style fighting school that is now among the greats of modern martial arts. Full contact, bare knuckles and intensive sparring.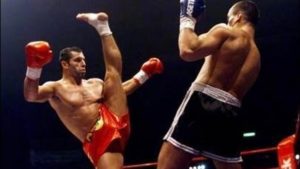 Despite the minimum age of 20, at just 15-years-old Hug entered the Oyama Cup, a national competition, after his grandparents wrote a letter requesting his entry under special circumstances. At ages 17, he won his first gold at the Oyama Cup and was snapped up to join the National Kyokushin team. By age 23 he had a silver in the Kyokushin Open Weight World Championships and had won dozens of European tournaments.
Like any great fighter, there are fights that are tarred with controversy, which have taken their place as some of the most memorable fights of Hug's career. In 1991, a fight between Hug and Brazilian fighter Francisco Filho tuned ugly after Filho knocked out Hug with a kick that came after the bell but was still counted.
After this incident, Hug began to resent the Karate scene and soon started his own kickboxing promotion known as K-1. The first event, despite being shockingly small for a fight of such fame, was a success with a Grand Prix fight arriving in 1994 where Hug defeated Branko Cikatić by decision. The next years saw Hug's first defeat to American kickboxer Patrick Smith which came as a surprise after Hug was knocked out in just one minute! It wasn't until 1996 that Hug came back to glory after defeating Mike Bernardo in a fight that is still memorable in kickboxing history.
After years of amazing K-1 fights and Grand Prix events, with Hug quickly rising to become one of the most well-known kickboxing champions of the era, he was suddenly diagnosed with leukemia at just 35 years of age, and in just a few days had slipped into a coma of which he would never return.
Leaving a wife and son behind, Hug was sorely missed by both his family and the martial arts community. His body was cremated and his ashes were scattered at the Hoshuin Temple in Kyoto, Japan. Despite leaving his mortal coil far too soon, Hug led an extraordinary career and fascinating life that, to this day, people idolize and aspire to. In Japan, he was affectionately known as the Blue Eyed Samurai, and his warrior spirit will live forever, kept alive by those who love and remember him. A man of great skill and intrigue, Andy Hug will not be forgotten.