UK sporting legend Brendan Ingle has died aged 77 after a brain hemorrhage.
The boxing trainer, who is viewed by many as one of the most important men in the history of UK boxing, has been attributed to changing the game forever, creating champions like Naseem Hamed (Prince Naseem) who focused on speed, reflexes and movement rather than more traditional virtues of power, strength and durability.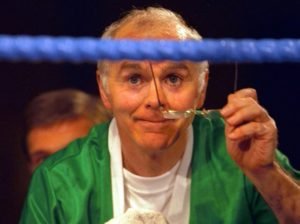 Ingle hailed from Dublin, and was a popular boxer in the late Sixties and early Seventies. After he married his sweetheart Alma, he moved to Sheffield and opened up a gym that ended up producing a succession of brilliant fighters, basically founding a dynasty of boxers that all hail Ingle as their King.
Ingle's ability to communicate with troubled and violent teens quickly saw him become one of the most respected people in his community, using boxing as a facilitator to bring kids onto the straight and narrow. Growing up, Ingle worshiped champions such as Muhammad Ali, and was inspired to bring that same type of feeling to the younger generation through his work – emphasizing the virtues of balance and footwork over power and aggression.
He was able to tune his trainees, and focus them on a skill that involved more than punching. Discipline and mindfulness was part of his regime and he soon created his first champion, Herol "Bomber" Graham who became a British and European title holder.
However, Ingle's greatest achievement was shaping the career and skills of Prince Naseem Hamed. This troublesome seven year old joined his gym after his parents looked to Ingle's ability to help improve the lives of unruly teens and children. On the playground, nobody could touch Naseem – for better or worse – but it was that power that Ingle latched onto and helped form.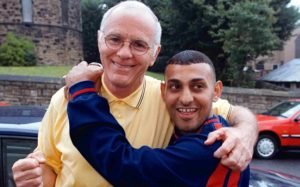 By the time Naseem made it to adulthood, he soon became the world featherweight title holder in 1995, catapulting him to becoming the biggest star in UK boxing for years to come. Sadly, Brendan Ingle and Naseem's relationship broke down, after Naseem began following money rather than success.
"I'm disappointed because he could have been greater and certainly more popular if he'd only listened to those who knew what they were doing," Ingle said later. "People never saw the best of him. I believe that he could have been a world champion at every weight from flyweight to middleweight. The way he treated people like Frank Warren, who promoted his world title fights, it was scandalous. He couldn't handle the wealth that came to him."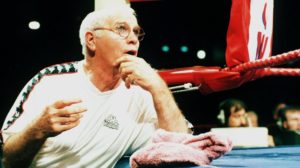 Unlike Naseem, Ingle remained unchanged despite his success and wealth. He remained modest, living in an average house with an average car, a mentality that many pertain to his success as a trainer and that of his students.
Other world champions who were trained by Brendan Ingle included cruiserweight Johnny Nelson, former world light-welterweight champion Junior Witter and former world light-heavyweight champion Clinton Woods.
In 1998, Ingle was appointed an MBE for his services to boxing and his astonishing success with unruly youth. In 2002 he was gifted an honorary doctorate by Sheffield Hallam University and in 2008, the Sheffield city council publicly honored him as a Sheffield Legend. May this legend rest in peace.