While nowadays we imagine a slightly less active Oval Office, back when Theodore Roosevelt was President, he would spend his free time in the White House practising Wrestling, Boxing and Jujitsu.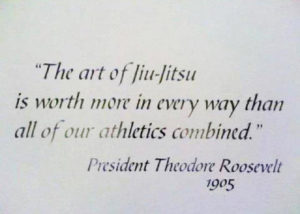 In order to lose 20 pounds before an election, he trained for 3 hours everyday, under the guidance of Yamashita Yoshiaki, the pioneer of Judo in the US. At other times, he would just grab the nearest person to practice with, like his sons, his private secretary, the Japanese naval attache, Secretary of War William Howard Taft, and Secretary of the Interior Gifford Pinchot. When these people were unavailable, he would challenge any burly visitors.
He became America's first brown belt while in office and remained the most decorated politician in martial arts until Russian President Vladimir Putin earned his eight degree black belt in karate.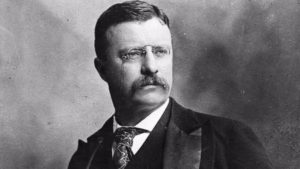 "He voluntarily subjected himself to a staggering number of brutal sparring sessions with championship-caliber fighters," writes Jon Finkel, author of his Biography. "Boxers; wrestlers; martial artists—it didn't matter to Roosevelt. If they'd be willing to punch him in the face or pin him to the ground, he'd take them on. He felt it was the only way he could maintain his 'natural body prowess.'"
His entry into the Martial Arts world began when he was 14. Tired of being bullied for being asthmatic and weak, he asked his father for boxing lessons. This was the beginning of what would become a lifelong practice. But it was a long journey. "I was a painfully slow and awkward pupil, and certainly worked two or three years before I made any perceptible improvement whatever."
During his Harvard years, although he was on no teams, he did enter many local competitions. But he seemed to more success on the street, where he became known for his spur-of-the-moment fights. During the Hayes-Tilden presidential campaign in 1976, he overheard someone making a derogatory remark, so he 'reached out and laid the mucker flat.'
This tenacity would serve him well in life, making him the youngest ever American to be elected as president and also the first American to win the Nobel Peace Prize.