At the age of 12, Bruce Lee first entered author Matthew Polly's life as he sat down with some popcorn to watch the film Enter the Dragon. From that day, fandom turned into obsession as he idolized Lee and his incredible martial arts skills.
Decades later, the now 47 year old Polly is a best-selling author and longtime martial arts enthusiast is publishing a biography of the man he idolized since that fateful day, and it couldn't be any better.
"Bruce Lee: A Life" is the title of the book, which is a 656 page biography of the martial arts legend himself. Publishers Weekly  have described it as an engrossing examination of the King Fu star's life and explores his shocking death at age 32 in detail that is respectful but not censored.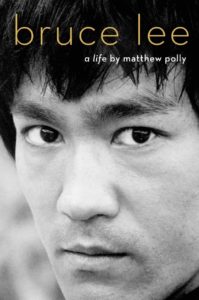 "Bruce Lee died 45 years ago this summer and yet no one has ever written an authoritative biography of him," Polly said this past week while talking to CJ Online . "This will be the first comprehensive biography of the most famous and probably most important Asian-American to ever live."
According to Polly, he quickly became fascinated with martial arts after watching Bruce Lee's Enter the Dragon. He was so motivated to get involved with martial arts he left Princeton University at age 21 to spend two years in China, living and studying with Shaolin monks.
Polly is a best-selling author, made famous by publishing a book telling the story of his experiences in China called "American Shaolin", before competing in MMA and writing a book about that experience too, titled "Tapped Out".
This latest biography is a detailed look into Lee's life and career. Polly spent over six months in Hong Kong interviewing Lee's siblings, classmates and friends to get inside stories and true emotional understanding about the hero. "Bruce Lee introduced more westerners to Asian culture than anyone who's ever lived," Polly said.
The biography explores Lee's youth where he appeared in 20 Cantonese-language films as a child before getting his first starring role at the age of 10. He was a troublemaker as a teenager, but only properly took up martial arts at the age of 16 to get better at street fighting.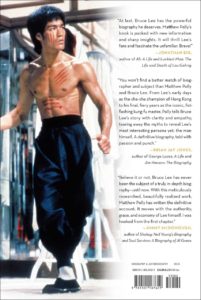 According to Polly, if Lee hadn't experienced a spiritual epiphany in his late teens, where he became a dedicated student of meditation and Taoism, who knows where his fiery nature would have taken him.
The biography goes on to follow Lee's adult career, being case in films and TV series in America, before returning to Hong Kong to play the lead role in The Big Boss (1971) which became a enormous success in Asia. It was because of that success that Lee returned to the US to star in Enter the Dragon…and the rest is history.
Polly claims that his biography covers Lee's death more comprehensively than any other book about him, even offering up a new theory about how he died – heatstroke. According to the coroner Lee died of an aspirin allergy which caused the brain to swell. However, Polly says that "the problem with that theory is he had taken aspirin his whole adult life with no side effects, so he wasn't allergic to aspirin."
To find out more, and the reasons why Polly claims Lee died of heatstroke, you'll have to read the biography, which can now be ordered in advance at amazon.com and barnesandnoble.com.