Universal Soldier. Street Fighter. Bloodsport. Kickboxer. These and a multitude of Hollywood martial arts movies from the 80s and 90s had one thing in common – Jean-Claude Van Damme , "The Muscles from Brussels". A celebrated martial artist whose skills formed a major part of his screen presence, Van Damme was a staple of many action films for decades.
There's more to this muscle-bound maestro than meets the eye, though. Here are a few things about him that you might not have known!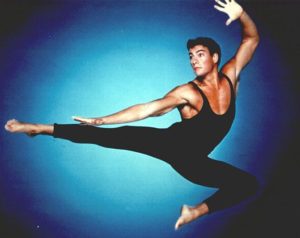 He studied to be a ballet dancer
Van Damme is known for his kickboxing moves, but he's trained his legs and feet in more than just combat. He actually studied classical ballet! He started at age 16 and spent the next 5 years in what he once described as "one of the most difficult sports." He has also said  "I was always attracted to ballet because of the dexterity, the stretching, the grace, and the fact that you are able to control without showing any pain in your face." 
"People think ballet is, like, usual, but it's not. It's very hard to do. It's very hard to be able to put your shoulders down and keep your hips straight and your legs spread like this, and hold somebody in one hand on one feet. So I mixed the grace and the movement with the power of karate. It's been a big help in my movies.
"I was about 16, 17 when I started. Then they wanted me to go with a professional company in Paris, because they needed so much good male dancers. They're not easy to find. Americans, of course, think ballet is for sissies. But they are very wrong. You see those legs of all those guys like Nureyev and Baryshnikov. They command a lot of power."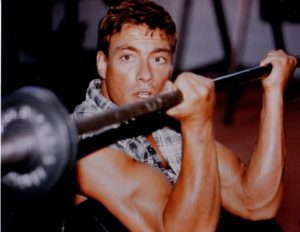 He once could bench almost twice his weight
At 19, Jean-Claude Van Damme was able to bench press 166kg, which is just over twice his own body weight at his prime of about 84kg.
He was once crowned Mr. Belgium
Van Damme's impressive physique led to him winning the Mr. Belgium bodybuilding contest in 1978!
He has an amazing professional kickboxing record
Jean-Claude Van Damme isn't just an onscreen fighter. He was a professional kickboxer between 1977 and 1982, compiling a record of 18 wins and 1 loss. In every single one of his wins, he knocked out his opponents, and in 16 of them, he won in the first round! As for that solitary loss, it was a disqualification that tarnished his almost perfect record, in which he accidentally kicked his opponent while he had been knocked down.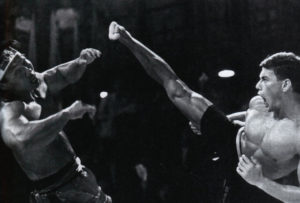 An Earthquake saved him a lot of money
He once won a court case against another famous martial artist, when he probably wouldn't have otherwise, because the evidence against him was lost during an earthquake. The court case filed against him was by martial arts legend Frank Dux, who claimed he collaborated with Van Damme on his 1996 directorial debut The Quest (1996), only for Van Damme to deny him any share of the profits.
He backed out of filming Predator
He was originally in the film Predator, playing the alien, but backed out because his face would not be seen on screen and felt it would do nothing to further his career.
His name is not Van Damme
He was born into the Van Varenberg family but felt he needed a more punchy stage name, so he adopted one of his friends' fathers names.
Jean Claude Van Damme is a truly amazing martial artist, and a well-rounded individual to boot! Do you have a favorite JCVD film? What do you think of his off-screen exploits?