It's just been announced that superstar Floyd Mayweather will be fighting 20-year-old Japanese kickboxer Tenshin Nasukawaon New Year's Eve in a Rizin Fighting Federation bout.
The fight will take place at the Saitama Super Arena on Dec. 31, between the once retired Mayweather, who held world titles in five different weight classes and has a 50-0 pro boxing record, and undefeated Nasukawa.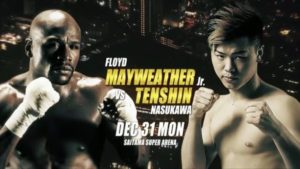 Mayweather had this to say about his opponent: "I think that he's young, very strong, very fast, and he's undefeated so it's obvious he's been doing something right to be where he's at."
Since beating Conor McGregor last August, Mayweather has expressed his enthusiasm for competing in an MMA event and we are sure the Rizin Fighting Federation is more than happy to have him onboard.
"This particular bout is a special bout since we're giving people something they've never seen before. The world has never seen me compete live in Tokyo," Mayweather said. "I'm going to bring a lot of excitement, and that's really what the people want to see."
Nasukawa is undefeated in both kickboxing and MMA and has a 27-0 record as a professional kickboxer with 21 wins by knockout, but with an opponent like Mayweather, who has held world titles in 20 of his 22 years as a pro, Nasukawa is going to have to bring his A-game.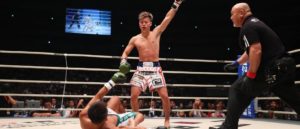 Other details about the fight, such as purse and weight category have yet to be revealed, but according to Mayweather, they will be in the coming weeks. So, watch this space!
Is this the type of opponent you expected Mayweather to come out of retirement for the umpteenth time for, or were you expecting something more along the lines of a fight with Khabib?