This Brazilian martial art developed by African slaves is one of the few martial arts that focuses almost more on the music than the fight itself. Capoeira is the and fighting to music is the game. So is it a traditional dance, or is it really a martial art? We try to find out…
According to a number of martial art writers, Capoeira has become a truly global sensation. Exploding out of Brazil's love for dance and music, this old 'martial art' that was the child of African slave exploitation and a mutual love of music and dance on both continents. One writer describes it as "The balance and flexibility of acrobatics, the grace and strength of dance, the speed and cunning of the fight, and the rhythms of the music."
Quite the statement, but we think is right on the money. Sure, encyclopedias and wikipedias describe the tradition as a folk dance that incorporates fighting, but to us there is more to it than that – the fights are real and the skills displayed are incredible, and well practiced.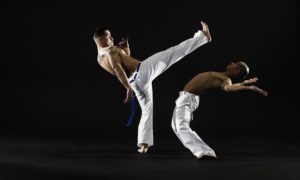 Back in 1888 when slavery was abolished in Brazil, the newly freed African slaves had great trouble to stay safe in a country that was not their home. They found it hard to find a place in the existing socioeconomic order and many became terrorised by the locals, while other resorted to crime to stay alive.
These gangs that emerged also gave way to a more 'street' style Capoeira that eliminated all the moves that were not practical in a real fight and focused only on those that would be practical – because given the life they were forced into, there would no doubt be attacks after attacks, challenging their freedom and their presence entirely. The music was removed (for practical reasons) and soon Capoeira was banned – with people practicing the tradition risking arrest, prison, lashes and even deportation.
It wasn't until 1937 that Capoeira was made legal once again, and claimed by the Brazilian authorities as a traditional sport of the country – conveniently ignoring the history behind it. Today there is still great debate about the exact origin, however, we do know that once it returned, so did the music.
Today, roughly two and a half million Brazilians practice Capoeira, and it is taught nationwide in schools, universities and even military academies. While Capoeira has a dance like appearance, we think it still classifies as a martial art. It would be very easy to take what you have learnt in the Capoeira dance ring to real life and really cause serious pain or damage to a person, whether it be in self-defense or as way of an attack. The moves are designed to hurt and music or no music, they can be executed with utmost precision if the fighter is trained well enough. Just like Muay Thai, that traditionally has music to accompany the fight, Capoeira follows the same pattern and fighters everywhere still hum the tunes in their head when preparing to fight, which is believed to make them much stronger and control the rhythm of the fight with ease.
Capoeira is a martial art, and should be treated as on. It is easily considered an intangible cultural heritage of Brazil and is now practiced the world over, being considered nowadays an important symbol of the Afro-Brazilian culture.