Mention Mixed Martial Arts and Sen. John McCains name in the same sentence to someone and you are likely to get one of two responses. A confused expression as to how the 2 topics could be linked, or the impression that McCain was the worst thing to happen to MMA and seemed hell-bent on destroying it.
His relationship with the sport was rocky at best, having once referred to it as 'Human Cockfighting' and he tried and succeeded in getting it banned from television for a period of time.  But when you look at his history and his motivations you will be more understanding.
A lifelong lover of boxing, having being involved in the sport at the Naval Academy,  McCain had great respect for fighters and cared very much for their wellbeing. He was also a personal friend of the late Muhammad Ali. So when Mixed Martial Arts began gaining popularity, all he saw was an unregulated violent mess that could seriously damage the health of the fighters involved. McCain was horrified after seeing his first UFC fight and likened it to something that would have been seen at the Roman Colosseum. He then wrote a letter to all 50 State Governors denouncing the sport and as a result, UFC was bounced from cable providers. This was its main source of revenue and therefore a devastating blow.
The result of McCain's campaign was that the UFC cooperated with state athletic commissions and implemented rules to make the sport safer for fighters. It now had weight classes, gloves, and short five-minute rounds. Brutal moves like fish-hooking, hair-pulling, groin striking, and headbutting were no longer tolerated.
While MMA is still not without risks, the reality is that most of the major injuries happen during training sessions, not in the ring. McCain has definitely changed his mind about the sport since these regulations have been put in place, even admitting that if this version of Mixed Martial Arts had existed while he was at the Naval Academy, he would have absolutely tried it out. But Boxing still holds first place in his heart."I don't enjoy it as much as I do regular boxing, because that's what I grew up with," McCain said. "But I don't have objections to it now."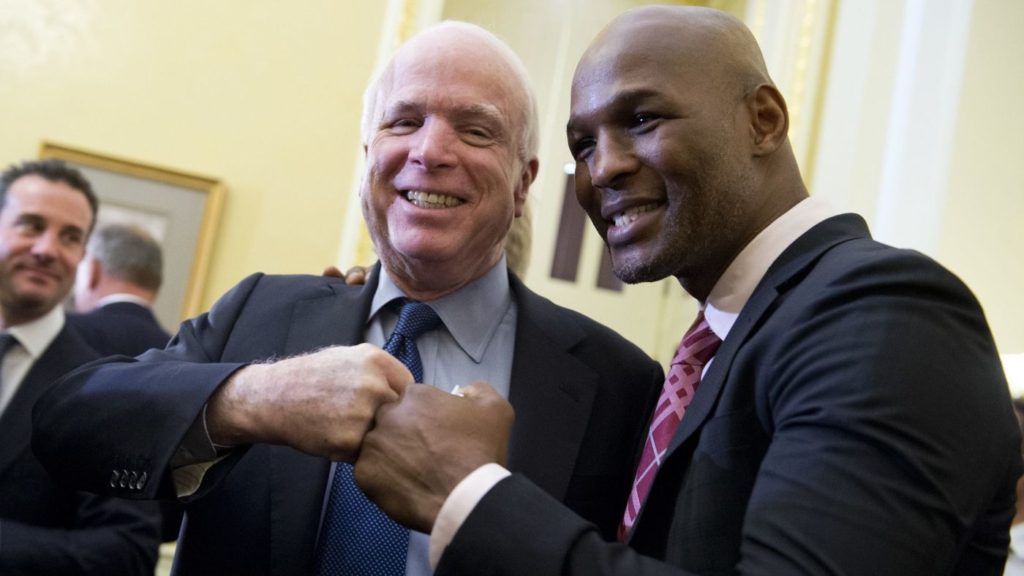 Dana White, President of UFC, had this to say about him: "I consider John McCain the guy who started the UFC. If it wasn't for McCain I wouldn't be here right now. What people don't understand about mixed martial arts and the UFC is, what he was saying to the old owners is that you cannot put on fights in states that aren't sanctioned. It's illegal. You can't do it. You have to be sanctioned by an athletic commission, which we agreed with him on 100 percent. John McCain wasn't saying this thing shouldn't happen, or it shouldn't be running. He was saying, if 'You're going to do it, it has to be sanctioned by an athletic commission.'
White wasn't the only person connected to UFC who, in hindsight appreciated McCain's involvement: "If it wasn't for Senator McCain forcing the issue of regulation in MMA, the sport wouldn't exist and flourish as it does today," former UFC co-owner Lorenzo Fertitta told Yahoo! Sports.
In his later years, McCain became heavily involved in pushing ' The Muhammad Ali Boxing Reform Act', which was created to protect the interests of boxers. The text of the bill states "The purposes of this Act are (1) to protect the rights and welfare of professional boxers on an interstate basis by preventing certain exploitive, oppressive, and unethical business practices; (2) to assist State boxing commissions in their efforts to provide more effective public oversight of the sport; and (3) to promote honorable competition in professional boxing and enhance the overall integrity of the industry." He also participated in the Cleveland Brain trauma study, whose aim is to monitor the brain health of fighters.
Last week the American Public lost one of it's Senators and the Global Martial Arts community lost one of its own. We would like to thank the late John McCain for his devotion to fighters and for helping create one of the most vibrant sports industries today. Rest In Peace.