Chatri Trisiripisal is a Thai businessman who grew up the ranks of the business world fast. In just a decade or so, he found himself working in the US and soon ended up on Wall Street as a hedge fund manager. To his clients and business partners, he is a guru with accounts, but to others he is the most powerful man in Asian martial arts.
With a history in business, this man may not be amazing in the ring, but he has been instrumental in the success of fighting championships like ONE Championship, an international martial arts promotion outfit that was founded in 2011.
Chatri has driven this venture into glory, with a passion for martial arts and a knowledge of business. While he chomps at the Wall Street bit, he keeps the martial arts world alive with his ventures and investment – with people dubbing him 'the most powerful man in Asian martial arts'.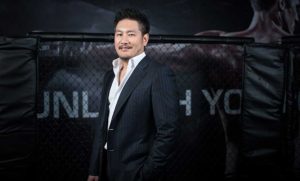 However, Chatri has not always been successful and well connected. During the 1997 Asian financial crisis, his parents became homeless and the whole family ate just one meal a day. Chatri and his brother took to the streets to sell fruit to earn money for the family, before he was abandoned and left to fend for himself.
Thanks to a generous scholarship, Chatri had the chance to earn an MBA from Harvard Business School but to earn enough to survive the expenses of the city, he had to work as a delivery boy and taught Muay Thai in his spare time.
After he graduated, Chatri moved to Silicon Valley where he managed to get a foot in the door. By the age of 30 he could buy his own New York apartment…so think about that next time you put off that extra job on the side because you are lazy!
Although moving up through the ranks and ending up in Wall Street, Chatri's passion has always been martial arts. With experience in Muay Thai as a boy and young man, he once competed in over 30 international bouts before moving to the US and he says that he owes a lot to martial arts to help him become a determined person overall.
His love for martial arts ended up with the starting of ONE Championship, which is today widely regarded as one of the world's most premier martial arts promotion and sports media companies in the Asia.
Chatri, who is ONE Championship's chairman and CEO, attributes the promotion's success to their extremely loyal fan base that is growing every day. "ONE Championship captures the essence of entertainment similar to a show in Las Vegas, but combines it with the sporting excellence of elite martial artists. It also breaks the mould of being a global sports media property that is based in Asia," he explained in an interview with a local English language Thai publication
Check out ONE Championship here and see what fights and events are up and coming. Who knows, you may want to join their ranks as a loyal fan or a fighter one day. With a mind-set like Chatri, anything is possible.