Although Khabib Nurmagomedov is just moment away from winning his next fight and becoming the undisputed UFC lightweight champion of the world, he is already looking for his next fight.
Nurmagomedov will soon take the belt home again as the UFC lightweight champion, but he is already looking towards a list of champions that are on his wish list to fight.
On the top of that list is the one and only Conor McGregor. Despite being caught up in a scanolous brawl in the US just over a week ago, McGregor is unlikely to be removed from the UFC entirely after finally signing a new deal with the UFC despite the drama, which was spurred on mostly due to his enormous fan base and high demand to return to the octagon.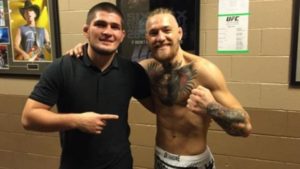 In a recent Q&A with reporters in Moscow, Nurmagomedov makes it clear that he wishes to fight the champion, or at least fight Dustin Poirier if McGregor doesn't step up to the ring.
"I don't have an opponent at this point," Nurmagomedov said. "I don't know who I'm going to fight. It's up to [the UFC], whoever they assign. I'll just fight whoever they give me. There are two opponents. Tony [Ferguson] is out so there's Conor and if it's not Conor McGregor then Dustin Poirier. Otherwise, there are no challengers."
Although Furguson would be the next choice by the UFC, he has recently undergone knee surgery which will keep him out of the ring for some time no doubt – leaving the position open to be filled by another champion such as McGregor or Poirier.
Nurmagomedov has a 26-0 win, and has reached the top of the lightweight division where McGregor used to sit before he stepped out of the octagon for almost two years now. According to Nurmagomedov, the plans are already in motion, saying that "we're talking, but if it takes too long, I don't want to do that."
To us that sounds like a bit of of a cop out – why would he not want to wait to fight one of the best lightweight champions of the world, or is it that he is too scared so is already making excuses?