Actor and professional bodybuilder Martyn Ford, otherwise known as the "Scariest Man on the Planet" has signed his first MMA contract with Poland's KSW. Now it will be hard to find a suitable challenger for him because of his enormous size at 6′ 8″.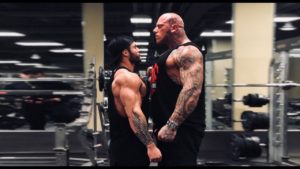 The rumor mill is in full swing with the news that his first mixed martial arts fight will be against Sajad Gharibi, otherwise known as the "Iranian Hulk,". If you are wondering where he got this name, just check out the video at the end of this article. 
Sajad has dreamed of joining the WWE and at a weight of 165kg and a height of 184cm he would be a more than perfect fit. Although he is nowhere near that goal yet, this matchup with Ford could be an important steppingstone. Instagram was his launchpad to stardom, with people in awe over his herculean size. He currently has over 400 thousand followers. But being big ain't easy and requires a LOT of food.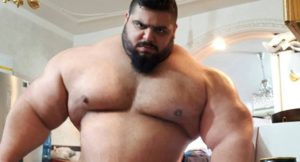 "Usually, I eat 4-5 times a day, but when I'm trying to bulk up I increase my meals to 7-8 times a day. I eat about the same things as every Iranian family does." He told Sputnik Iran.
"However, what distinguishes me from others is my genetics. My grandfather was also a big man and went to the zurkhaneh [a traditional sports arena)."
The Iranian Hulk is a scary name that is actually in total contradiction to the man's personality. He is known and loved for being an extremely polite and warm person. He was formally trained in the military and also is a real estate agent, which might explain his impeccable people skills; a trait not normally attributed to fighters.
"People on the street don't remember my name, but they really love me and they call me the "Iranian giant", the "Iranian Hercules" or "Hero."
"The phrase "Iranian Hulk" has already become a world brand. I am somebody who smiles a lot and I'm very polite to everyone. People don't have any reason to fear me — most of them want to take a picture with me."
We are crossing our fingers and toes that there is some truth to this rumor. If so, it will surely draw a huge crowd.
Check out the 2 possible challengers here: