Fans of The Raid and Iko Uwais are in for a bloody treat (but maybe not much else) with The Night Comes For Us.
Director Timo Tjahjanto has not been shy when it comes to the gore in this film, although he was a little more than reluctant when it comes to plot and logic. This first Indonesian film to be produced by Netflix is a juggernaut of Violence, with fight scenes lasting sometimes up to a ridiculous 15 minutes. The Choreography is so fantastic though, that you get completely caught up in the atmosphere, even though when the end credits roll, you'll be hard-pressed to remember a single characters name or be able to quickly summarize the plot. From the start, I was kind of reminded of "Mary Poppins". Mary Poppins starts with the 2 kids watching their parents get riddled with bullets a few feet from them right?…..right?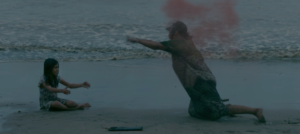 The opening shot uses crawl text to quickly fill you in on the current situation, because why would you want to use up valuable screen time explaining the premise when it could be used for something more worthwhile like watching someone's head get bashed or a limb being snapped until the bone bursts through the skin. Tjahjanto makes his choice and sticks firmly to it.
We won't speak too much in terms of plot, because, well, there really isn't much of one. But the hazy one that is there centers around a secret group of assassins called "The Six Seas" operated by The Southeast Asian Triad, who will pretty much do anything, no matter how horrific, to maintain control in The Golden Triangle (The area where the borders of Thailand, Laos, and Myanmar meet at the confluence of the Ruak and Mekong Rivers). The Triad profits mainly from Drugs, Weapons, and Human Trafficking…they are a lovely bunch of guys. Over three-quarters of the screen time is devoted to seeing the human body subjected to things that the human body really should not be subject to…..and it's a morbid joy to watch.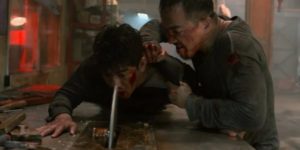 But here comes the sticking point: Can we truly call this a Martial Arts film, just because it happens to contain fight scenes using Indonesian Silat? A Martial art is the sum of many things, of which techniques are only one. Martial Arts have a rich philosophy and a code of conduct that deeply emphasizes qualities such as Respect and Integrity. But is this film, as amazing a visual spectacle as it is, maybe a little guilty of just being violent and gory for the sake of it? Shock value sells and maybe the director felt that a more moralistic story would be tougher to get a box office return on. It seems to be a sad trend that more and more of these films are going down the cheap thrills route…but is The Night Comes For Us one of these? An interesting comparison can be made with the Chinese film The Final Master. It has an epic fight scene that contains hardly any blood, has frequent displays of respect and etiquette, yet still is riveting to watch.
Watch the trailer for The Night Comes For Us below and then a scene from The Final Master to see the comparison: