A new trailer for Jean-Claude Van Damme's new movie Black Water has just been released and we are pumped! This action thriller is the fifth collaboration between Van Damme and Dolph Lundgren is is being produced by Jason Cherubini, Alexander Ferguson, Tyler W. Konney, and Richard Switzer for Dawn's Light Productions.
But enough of the formalities. Lundgren and Van Damme are back, and it's like they never left.
This military style action thriller features Van Damme as CIA Operative Wheeler, who is framed for a major crime and imprisoned onboard a nuclear submarine. During his time aboard, he teams up with a mysterious ally known only as Marco (played by Lundgren) to find an escape and clear his name.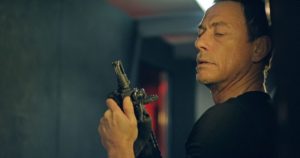 As can be expected, Van Damme is in tip-top shape, despite his age. His ally both on screen and off screen, Lundgren, is also just as toned, looking like he is ready to step into the ring at any time and take on the best of the best. (Anyone got a contact where we can help make that happen?!)
The trailer is packed with more details but it doesn't give must away. There are guns, fist fights, and we are convinced that the classic roundhouse kicks by van Damme are sure to make an appearance.
"Jean-Claude and Dolph are a powerhouse duo, it's refreshing to see them fighting on the same side for a change," said Saban Films' Bill Bromiley. "The pair are iconic action heroes; our audiences will absolutely love 'Black Water.'"
But that's enough from us. Watch the trailer for yourself and join the hype train!