Since we love all things Judo related, we thought we'd introduce to you one of the greatest Judoka of all time, Tadahiro Nomura.
Born in Koryo, Japan in 1974, Nomura grew up surrounded by Judo. His grandfather ran a local Judo school and his father coached the 1984Olympic gold medalist, Shinji Hosokawa. Even his uncle took home gold in the Olympics two years before he was born.
Born into an elite family of Judo masters, there is no doubt that Nomura would grow to follow the same path. As he began to walk and then control his movements, he would play with friends on the tatami mats at his grandfather's school before learning his first proper techniques, including his now famous Seoi Nage. Nomura also had an older brother who soon became his go-to rival, which sadly ended up creating tension in the family as being the younger sibling, was prone to lose more than win – which really affected him.
As a teen, he grew in skill and competed both nationally and internationally before he joined his father's Judo team in Tenri University. Unlike you'd expect in Japan, his father did not push him to train but left him to enjoy the sport so that he would form a greater love for it.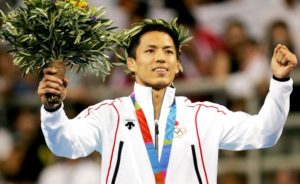 In 1996, aged just 21, Nomura attended the All-Japan Selected Judo Championships and defeated the 1993 world champion in the 60kg weight-class to win the division, earning him a spot on the Japanese Olympic team.
In Round 32 of the Olympic Games, Nomura faced Nikolay Ozhegin – the reigning world champion from Russia. Nomura put up a great fight but near the end, he was looking towards a loss. Miraculously, when Ozhegin dropped for a fireman's carry, Nomura was able to twist in the air and save himself from a game-ending ippon fall, after which he hit a rolling, one-handed sode tsurikomi goshi to take the lead and win the match!
If you don't know what a sode tsurikomi goshi is, then check out this video below to see just how awesome it is!
A few more wins later and Nomura was in the final match, looking at a gold medal if he won, a silver if he lost. The fight was against Italian Girolamo Giovinazzo. Just like his time against Ozhegin, Nomura fell behind and was looking like he was going to lose the match. However, out of nowhere, he pulled a technique out of his hat that he would one day become famous for – the drop seoi nage. In one swoop, Nomura won himself the gold medal and immediately became the told of the Judo world and a hero for the Japanese Olympic team.
After his win at the Olympics, Nomura was not finished. In 1997 he won the Judo World Championship where he again performed a defeating drop seoi nage to win against Giorgi Revazishvili in the finals and won the All-Japan Selected Judo Championships in Japan again.
However, by 1999 a new rival was on the scene. Now veteran Nomura was finally defeated by Kazuhiko Tokuno in the Judo World Championships, taking his first ever silver at a competitive event.
Yet, for many people this God of Judo would fight back, taking another gold in the 2000 Sydney Olympics against Korean Jung Bu-Kyung in just 14 seconds. The warrior was back!
Securing himself in Judo history as one of the greatest Judoka of all time, he took some time away from the sport to marry his sweetheart Yoko Sakari, a famous Japanese model may we add, in May 2001.
In 2004, Nomura bounced back again to win yet another gold medal at the 2004 Olympics – becoming the only Judoka to win three Olympic gold medals – a feat that remains unbeaten.
This success, along with all his other gold and silver medals collected along the way puts Nomura firmly in the Gods of War Pantheon as one of the greatest Judoka in the world today.